WasteShark, the Swimming Drone, Devours Marine Trash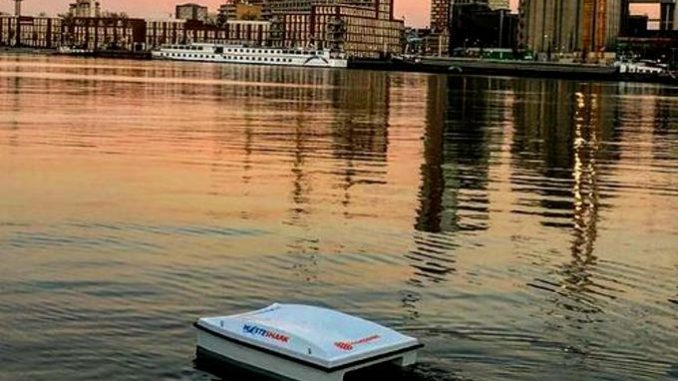 ROTTERDAM, The Netherlands, April 5, 2021 (ENS) – The Rotterdam-based startup RanMarine Technology has built a drone that swims rather than flies. The WasteShark traverses waterways to collect litter, biomass, plastics, microplastic and other debris using a basket underneath the autonomous device. In addition to removing litter, sensors in the drone enable data collection on water conditions: temperature, pH levels, depth, green algae, or oily hydrocarbons.
Modeled on the planet's largest fish, the whale shark, the WasteShark is the world's first waste-harvesting autonomous aqua-drone that collects marine waste, biomass, and plastic from all types of water. It can collect up to 500 kilograms of waste a day with a zero carbon footprint.
To date, RanMarine has introduced WasteSharks to help clean up harbors in the United States, the United Kingdom, the Netherlands, South Africa, India, Thailand, Denmark, Sweden, the United Arab Emirates, and Australia.
The WasteShark uses radar to avoid collisions and GPS and autonomous software to follow pathways while collecting waste and data. The device can travel through waters for up to 10 hours without a recharge.
RanMarine Technology and The Planet Calls, an Irish NGO foundation focused on sustainability and a circular economy, have just announced their new strategic partnership. Combining RanMarine's award-winning technology for cleaning the world's waters and The Planets Calls' mission for a greener and more sustainable planet, it's a partnership with a vision – clean plastic pollution.
In some form, almost all the plastic ever created still exists today. The amount of plastic produced globally in a year is almost the same as the entire weight of humanity, the two organizations warn. They take seriously the prediction that by 2050, there will be more tonnes of plastic in our oceans than tonnes of fish.
This estimate comes from a report by British sailor and environmentalist Ellen MacArthur introduced at the World Economic Forum in Davos, Switzerland in January 2016. "In a business-as-usual scenario, the ocean is expected to contain one tonne of plastic for every three tonnes of fish by 2025, and by 2050, more plastics than fish (by weight)," the report read.
There is no doubt that the call to act is urgent.
RanMarine Technology CEO Richard Hardiman says, "As a cleantech company, we are regularly introduced to people and networks who are passionate about the earth, its waters, and the need for urgent restoration. I can honestly say that few embody the same passion and vision or align with our mission so clearly as The Planet Calls. To be partnered with CEO Leslie Maliepaard and her team, to us at RanMarine, is the embodiment of what we are looking to achieve in creating stronger networks and commitments in the fight against plastic pollution."
In this fight against plastic pollution, RanMarine's WasteShark drone offers an intelligent tool for cleaning water in parks, lakes, lagoons, marinas, rivers, canals, harbors and smart cities, where the eco-friendly, quiet drone can devour plastic pollution before it spills into the ocean.
Article by Environment News Service